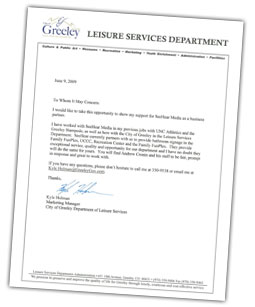 To Whom It May Concern:
I would like to take this opportunity to show my support for SeeHear Media as a business partner.
I have worked with SeeHear Media in my previous jobs with UNC Athletics and the Greeley Stampede, as well as here with the City of Greeley in the Leisure Services Department. SeeHear currently partners with us to provide bathroom signage in the Family FunPlex, UCCC, Recreation Center and the Family FunPlex. They provide exceptional service, quality and opportunity for our department and I have no doubt they will do the same for yours. You will find Andrew Cronin and his staff to be fair, prompt in response and great to work with.
Thanks,

Kyle Holman

Marketing Manager

City of Greeley Department of Leisure Services
---
The Denver Army Recruiting Battalion has had a very productive and professional working relationship with SeeHear Media. Their innovative ideas for marketing and advertising and their quality print products have made for a very powerful presence for Army Recruiting in Northern Colorado.
Ted and Drew are by far the most professional vendors and company out of thousands I work with over the four-state region – Colorado, Nebraska, Kansas and a large part of Wyoming. They also do their homework as well on pitching us ideas that meet our demographics.
Products we have purchased from them are banners, advertising in all rec centers, hockey arenas and sports centers in Northern Colorado, taxi toppers, flyers in venues where ages 18 to 24-year-olds frequent and much more.
I highly recommend that any company incorporate SeeHear Media products and adveristing opportunities into their marketing plans.
Sincerely,

Debbie D. Cannon

Public Affairs Chief

Denver Army Recruiting Battalion
---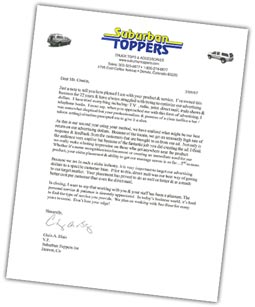 Dear Mr. Cronin,
Just a note to tell you how pleased I am with your product and service. I've owned this business for 22 years and have always struggled with trying to optimize our advertising dollars. I have tried everything including: T.V., radio, print, direct mail, trade shows and telephone books. I must say, when you approached me with this form of advertising, I was somewhat skeptical but your professionalism and promise of a class (unlike a bar / saloon setting) situation prompted me to give it a shot.
As this is our second year using your method, we have realized what might be our best return on our advertising dollars. Because of the locale, we get an unusually high rate of response and feedback from the customers that are brought to us from our ad. Not only is the audience very captive but because of the fantastic job you did creating the ad, I think we really make a lasting impression on those who get anywhere near the product. Whether it's name recognition/reinforcement or creating an immediate need for our product, your niche placement and ability to get our message across is so far…2nd to none.
Because we are in such a niche industry, it is very important to target our advertising dollars to a specific base. Prior to this, direct mail was our best way of getting to our target market. Your placement has proved to do as well or better and at a much better cost per customer than even the direct mail.
In closing, I want to say that working with you and your staff has been a pleasure. The personal service and patience is sincerely appreciated. In today's business world, it's hard to find the type of service you provide. We plan on working with See-Hear for many years to come. Don't loose your edge!
Sincerely,
Chris A. Blais

V.P.

Suburban Toppers, Inc.

Denver, Colorado.
---
To Whom It May Concern:
It has been our pleasure to work with SeeHear Media for the past three seasons. Having identified restroom advertising as an excellent niche opportunity through which to attract new advertising dollars, we conducted exhaustive research on numerous national and local sales partners before aligning ourselves with SeeHear.
SeeHear's advertising frames and ads all are of high quality and exceptionally well maintained on a consistent basis. You can rest assured your message will be represented in a positive, first-class manner. In addition to partnering with SeeHear on the placement of ads in INVESCO Field at Mile High, the Denver Broncos also work with SeeHear to place advertisements throughout Northern Colorado to support various team initiatives.
In addition to working with a company that we feel very strongly about, you would be working with a company controlling exclusive advertising rights to the restrooms of INVESCO Field at Mile High. A premier sports venue, INVESCO Field at Mile High is best known as the home of the Denver Broncos. There is not a more cost effective channel through which to reach Broncos game attendees. Every single Broncos game dating back to 1970 bas been sold out so you are virtually assured of a full house game in and game out. INVESCO Field at Mile High is also home to Major Jeague Lacrosse's Denver Outlaws, who have six home games annually. In addition, we host team events such as Broncos Fan Fair as well as year-round stadium tours, all while continually trying to attract new offerings in college football, concerts (CU vs. CSU, potential bowl games, etc.), soccer, etc. Not only does INVESCO Field deliver a quantity number of eyeballs but you also receive the focused attention of a quality audience that tends to have above average disposal incomes and represent various areas around the state.
Brady Kellogg

Director of Corporate Partnerships
---
Andrew,

I just wanted to drop you a line and say "Thank You" for the results your indoor and transit advertising has done for my clients. As you know, I was a skeptic of both taxi and indoor advertising for many years. I believed that taxis were overlooked and indoor could not be committed to memory by the consumer. Let me tell you "I was wrong". We have used your indoor for recreation and security advertising clients along with the taxis for automotive after-market and automobile sales. All of my clients that are using your services are pleased with the results that have been driven to them. I just wanted to pass that on to you and say thank you.
Sincerely,
Steve Miget

Advertising Works!
---
Painless, productive and profitable. Those would be key words to describe our business relationship with Andrew Cronin and SeeHear Media. At a time when print advertising was getting more cost-prohibitive with minimal returns on investment, Cellular Junction decided to adopt a TOMA (Top Of Mind Awareness) approach to getting our name out to as many people as possible. Consequently, we have utilized indoor billboards, buses, bus shelters and bus benches for our advertising mediums. Admittedly, this type of advertising is much harder to track on ROI, but I would be hard-pressed to believe that the constant message being delivered isn't being noticed. We certainly didn't experience a decrease in business when we abandoned print advertising for this type of advertising! SeeHear Media has helped us to deliver our message throughout Northern Colorado in the most noticeable, most expedient and most cost-effective manner possible. I couldn't more highly recommend SeeHear Media and TOMA advertising as the most productive, most frequently seen and least-expensive means to advertise anyone's business. To be sure, there are any number of advertising companies who utilize TOMA advertising as their primary product. But, as with any industry, one wants to work with an organization with integrity and ethics. SeeHear Media has that in spades!
Sincerely,
Dani Korkegi

Cellular Junction
---
To whom it may concern.
The Regional Transportation District in Denver Colorado has been doing business with SeeHear Media for the past three years. We are currently and have utilized the indoor advertising at INVESCO Field at Mile High Stadium to market our Light Rail service. SeeHear Media has been very accommodating from negotiating a contract to getting the signs posted at the stadium in a professional and timely manner. We are also very pleased with the results. RTD has never had a problem with SeeHear Media and strongly recommend them for your advertising/marketing needs.
Should you have questions or need additional information, please don't hesitate to contact me.
Kathy McCracken

Regional Transportation District